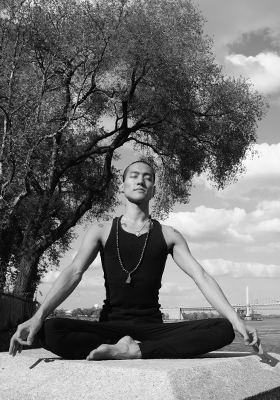 SHO HIGUCHI
HOMETOWN
Queens, New York
PHILOSOPHY
Sho believes that the purpose of our lives is to be happy (and share this happiness with others) - this shines through in his class. He incorporates elements of unconditional love by building awareness in friendliness, joy, and equanimity among all souls.
CLASSES AT PURE
Yin, Restorative, Classical Hatha, Meditation, Yoga Nidra, Slow Flow
EXPERIENCE & CERTIFICATIONS
Student of meditation since age 7; 800+ hours certified in Yogic Lifestyle & Science, Classical Kriya Yoga, Tantra Meditation & Pranayama, Restorative Yoga, Yin Yoga, Pre-natal Yoga; Currently enrolled in Iyengar Yoga Teacher Training.
MENTORS
Hisao "Genki" Horiguchi, Yogi Charu, Genny Kapuler, Mary Aranas, Alan Finger, Isaac Peña, and Shelly Zagor
BEFORE YOGA
Pastry Chef