Philip Askew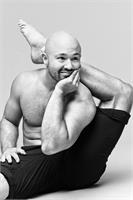 Phillip Askew
HOMETOWN
Muscle Shoals, Alabama
PHILOSOPHY
Emphasizing awareness through precision, meditation in motion, and the art of conscious embodiment, Phillip's classes are a forum for the collective psychic experience and pranic exchange. Imbued with metaphor and meaning, they challenge the body, engage the mind and quicken the spirit.
CLASSES AT PURE
Vinyasa 2/3
EXPERIENCE & CERTIFICATIONS
Phillip began his practice when he was 18 years old. He completed a 500 hour training at Ishta Yoga and soon after, was initiated into the arts of partner yoga therapeutics.
MENTORS
Nevine Michaan, Richard Freeman
Philip Askew instructs the following:
Vinyasa is characterized by flowing poses and sequences that are linked to the breath. This class is diverse and sequencing will vary with instructor philosophy and in general is a vigorous, more athletic approach to yoga.