Philip Askew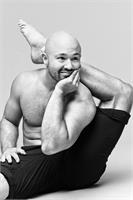 Phillip Askew
HOMETOWN
Muscle Shoals, Alabama
PHILOSOPHY
Emphasizing awareness through precision, meditation in motion, and the art of conscious embodiment, Phillip's classes are a forum for the collective psychic experience and pranic exchange. Imbued with metaphor and meaning, they challenge the body, engage the mind and quicken the spirit.
CLASSES AT PURE
Vinyasa 2/3
EXPERIENCE & CERTIFICATIONS
Phillip began his practice when he was 18 years old. He completed a 500 hour training at Ishta Yoga and soon after, was initiated into the arts of partner yoga therapeutics.
MENTORS
Nevine Michaan, Richard Freeman
Philip Askew instructs the following:
16-Hour Yoga Teacher Training Intensive at Pure Yoga NYC. Focus: Hands-on Assists. Learn the arts of body reading, yoga sequencing & hands-on manipulations in this comprehensive training series led by senior teacher, Phillip Askew.

Every body is unique. And yet, patterns emerge. Some patterns of posture and movement can be confining; and some can liberating. Learn how to see and analyze postural patterns, both good & bad; as well as how to apply counter-patterns to achieve states of balance, equanimity & freedom in your own body & in the bodies of your students.

A tremendous amount of information can be conveyed through physical touch. Nothing helps a student "feel it" better than feeling it. Stimulating this "muscle memory"is the easiest way to pattern out these fractal facial intelligence chains. Hands-on assists are an excellent way to move people. Come refine your skills in this fun & informative intensive training.

SCHEDULE (for Saturday + Sunday)

10am - 12pm Open Class (this class is open to students who are not in the training)
12pm - 1pm Break/Lunch
1pm - 2pm Teacher Training: Theory & Observation
2pm - 5:30pm Teacher Training: Practice and Presentation
5:30pm - 6pm Review

PRICE

$375

About Phillip Askew

I came to Yoga no stranger to the joys of physicality. But my body was a wreck from sports that I played growing up. I was tremendously inflexible with ailments in my neck and back. For me, at the time, the simplest postures were- not only deeply therapeutic- but poignant vehicles for psychic transformation. It was this effect on my conscious mind that hooked me into the practice. I spent years in home practice before ever coming to class, thinking that my experience was too personal to share in a group setting. But, when I took my first Vinyasa class, in a room full of people, all practicing with one intention, all stoking the same fire, I fell in love with Vinyasa; and pursued it through various avenues over the years, searching out the through-lines and common threads from one school to the next, & embracing the lifestyle of the Contemporary Yoga Movement. I teach today from that space between, in an attempt to convey the love story between form and flow, dancer and witness, devotion and integrity, Sun and Moon. I look forward to our practice together!




Join Philip for a two hour Master Class focusing on breath, alignment, asana and meditation.




A fun and innovative class with a master teacher, you'll explore the foundation work and alignment tips to safely approach and 'elevate' your arm balances and inversions. For intermediate to advanced yogis only.