Mary Aranas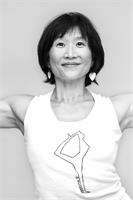 Mary Aranas
HOMETOWN
Taipei, Taiwan (raised in Toronto and Ottawa, Canada)
PHILOSOPHY
Mary embraces yoga as a perfect blend of athleticism, creativity and spirituality. She encourages her students to find their joyful edge of inner and outer strength, beauty and expression.
CLASSES AT PURE
Yin/Yang, Slow Flow Meditation, Chakra Slow Flow, Restorative, Vinyasa
EXPERIENCE & CERTIFICATIONS
E-RYT 500, ISHTA Certified, AcroYoga, YogaSlackers, Thai Bodywork
MENTORS
Yogiraj Alan Finger
BEFORE YOGA
Ensemble Member of an Off-Broadway Theatre Company
Mary Aranas instructs the following:
Restorative yoga is a deeply relaxing way of practicing yoga. Given props, the student achieves poses without much muscular strength, facilitating deep release in the connective tissue and calming the nervous system. Teachers may offer a meditative focus




Yoga Nidra (Psychic sleeping) – Yoga Nidra is the art of conscious relaxation. It is a powerful practice where the body and mind are liberated from their tensions and anxiety. One learns how to put the body into sleep while the mind remains fully awake. The brain wave drops into the theta state where deep levels of healing takes place on the emotional, mental, and physical planes.




Take it slow with this gentle, but deep approach to Vinyasa yoga. This practice links poses to breath to reveal body awareness, inner strength, and easeful opening. The later part of class includes a guided meditation for the ultimate yoga experience.