Mary Aranas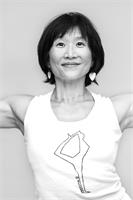 Mary Aranas
HOMETOWN
Taipei, Taiwan (raised in Toronto and Ottawa, Canada)
PHILOSOPHY
Mary embraces yoga as a perfect blend of athleticism, creativity and spirituality. She encourages her students to find their joyful edge of inner and outer strength, beauty and expression.
CLASSES AT PURE
Slow Flow Meditation, Yoga Nidra, Restorative
EXPERIENCE & CERTIFICATIONS
E-RYT 500. Practice since 1996 Teach since 2002. Certified: ISHTA, AcroYoga, YogaSlackers, Thai Yoga, C-IAYT Yoga Therapist, Reiki 2nd Degree.
MENTORS
Yogiraj Alan Finger
BEFORE YOGA
Actress in regional and off-Broadway theater
Mary Aranas instructs the following:
Yoga Nidra (Psychic sleeping) – Yoga Nidra is the art of conscious relaxation. It is a powerful practice where the body and mind are liberated from their tensions and anxiety. One learns how to put the body into sleep while the mind remains fully awake. The brain wave drops into the theta state where deep levels of healing takes place on the emotional, mental, and physical planes.




Take it slow with this gentle, but deep approach to Vinyasa yoga. This practice links poses to breath to reveal body awareness, inner strength, and easeful opening. The later part of class includes a guided meditation for the ultimate yoga experience.




Restorative yoga is a deeply relaxing way of practicing yoga. Given props, the student achieves poses without much muscular strength, facilitating deep release in the connective tissue and calming the nervous system. Teachers may offer a meditative focus




Yoga Nidra is for teachers and students; artists, athletes, and parents; health professionals, men, women, and children. Yoga Nidra is both a modern science and an ancient meditation with its roots in tantric nyasa. As practiced today, it is a fascinating and powerful blend of yogic arts and mind-body science, amply researched, and used widely in hospitals, schools, recovery programs, households, and more, and gaining popularity every day. This training is for anyone seeking to empower their meditation life, or to bring more freedom into their lives and others' through this practice.

Yoga means not only Union in Sanskrit, it also means Awake. Thus Yoga Nidra paradoxically means Awakened Sleep. In this awakened mind consciousness, we receive refreshment, a calming of the nervous system, and an increased clarity and focus of mind, for whatever we desire to achieve:

Yoga Nidra may be practiced for:

Better sleep
Better health, work, relationships, finances, creativity, or other life goals
Behavior modification, as with phobias or habits
Higher spiritual alignment

All these are attainable and appropriate goals for yoga Nidra, as we learn to guide ourselves and others through specific steps to receive this deeply restful form of meditation, all done in Savasana, the relaxation posture

In this 25 hour Yoga Nidra teacher training, students will:

Experience Yoga Nidra practice in multiple sessions
Examine its roots, science, applications, and essential elements
Learn to craft the elements into short and long scripts
Explore approaches to sankalpa (resolve/intention) for specific goals
Practice script reading, timing, voice, tone, delivery
Receive a 25-hour Yoga Nidra training certification, with completion of homework
Receive 30 days Pure Yoga membership to meet requirements for Yoga Nidra homework in order to meet requirements to attend Yoga Nidra classes

Required Reading:

Yoga Nidra by Swami Satyananda Saraswati
Textbook is also available at: Butala Emporium, 132 E. 28th Street, (212) 684-4447

*Please purchase the textbook and bring to the training, along with a notebook, pen/pencil, a refillable water bottle, and layers if you get cold when you nap.

*Pre-training and Post-training Homework readings will be emailed to you for the weeks prior to and after the training, so the soonest you register, the earliest you get started. There are three Pre-training Homework readings, in order to maximize our face time contact hours' effectiveness.

SCHEDULE

May 6th - 7th, 2017

Saturday & Sunday | 10am - 6pm (1 hour lunch break)

+homework hours to be completed for certification

PRICING
Pure Members | $300
Non Members | $325
Pure Yoga 200-hour graduates: | $275

Email angela.leigh@pureyoga.com to register.

*Included in this training is 30 days Pure membership to complete the required Yoga Nidra class attendance and homework reports.

ABOUT MARY ARANAS

Mary Aranas, E-RYT 500, C-IAYT, YACEP, was affectionately dubbed "Mother Mary" by fellow AcroYoga teacher Jonny Nobleza during her Level 1 Thai Yoga training with Jennifer Yarro of New England Triple Gem School of Thai Massage in 2009, and the name stuck. Mary was certified in 2002 by ISHTA Yogiraj Alan Finger, and has taught multiple forms of Yoga full-time since 2002. She is Reiki II, Thai II, AcroYoga II, YogaSlacker, YACEP and C-IAYT Yoga Therapist certified. Mary has led Restorative Teacher trainings both with YogaFit nationally, and led her own Mother Mary Restorative Teacher Trainings locally at Pure Yoga and Om Factory Yoga Studio since 2011. Mary's signature Chakra Tuning and Aromatherapy Restorative workshops at Pure have run seasonally for the past 8 years, as have her monthly Yoga ENewsletters. Wife, mother, actress, NVC practitioner, and lay healing prayer minister, Mary enjoys travel, dance, learning, reading, and friends and family in her free time.




For mothers and fathers; sons and daughters, too! Come and be nurtured, that you may better nurture Self and others. Root yourself, soften your heart, open to inspiration. We will treat our seven chakra wheels to luscious, supported Yoga postures that re-align our healing energies. Aromatherapy gifts for each of Mary's sweet babes.

ABOUT MARY ARANAS

Mary Aranas is 500-hour E-RYT and has taught yoga full-time since 2002. Mary has led Restorative trainings nationally for YogaFit®, and locally at Pure Yoga and Om Factory New York. Mary draws from her background in ISHTA Yoga (Integrated Science of Hatha, Tantra and Ayurveda), Thai Yoga, Nada Yoga (yoga of sound), Reiki, hypnotic trance meditation, Yoga Nidra, healing prayer, and the arts to create her Mother Mary Restorative Trance Yoga that tunes all seven chakras. Perfect for seasoned yogis, new yogis, and all people recovering from stress or injury of any kind.

PRICING

Members | $50

Non Members | $55

Bring a friend or family member and save! Both for $95. *Both names are needed on registration.