Mary Barnes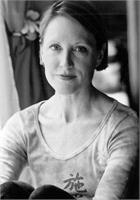 Mary Barnes
HOMETOWN
Originally from Minneapolis, MN (has called Manhattan home since 1987!)
PHILOSOPHY
Having extensively studied and practiced Anusara Yoga for many years, Mary's classes are both heartfelt and alignment oriented. She seeks to teach students how to balance the hard and the soft in order to become stronger and more resilient, both on and off the yoga mat.
CLASSES AT PURE
Prenatal, Baby & Me, Momma Core
EXPERIENCE & CERTIFICATIONS
24 Years, Pre and Post-Natal Yoga
MENTORS
John Friend
BEFORE YOGA
Marketing positions on Wall Street and a large NYC law firm. I became certified in Fitness and Yoga, and taught part-time while I held my other corporate positions. I finally got up the nerve to leave my desk job and I started teaching full time in 1992. The next year my first son was born, and I began to create my Yoga For Two Prenatal and Postpartum program.
Mary Barnes instructs the following:
Learn how to safely strengthen your abdominals to maintain postural integrity during pregnancy and labor.




(For parents and babies, 6 weeks until crawling too much to do yoga!)

This multi-level postpartum yoga flow class is specifically designed to reawaken and strengthen a woman's postpartum body---with an emphasis on their core--- after giving birth, while they practice yoga with their baby. Dads are welcome to attend class too and join in the flow! Baby yoga and songs are included. This class helps moms and dads regain physical, mental and emotional strength during the early months of motherhood while they meet other new moms and babies.

(Please note: At Pure Yoga East you can call the front desk when you arrive to ask them to send the elevator to Street Level if you have a stroller: 212-360-1888.)




Momma Core Yoga is specifically designed by Mary Barnes to help new moms feel strong and centered as they resume their yoga practice during the postpartum months. You will regain your core strength, including your pelvic floor and abdominal muscles, if you commit to a regular practice. Healing your separated abdominal wall (Diastasis Recti), which occurs in many pregnant women, will also be addressed. The class also includes simple yet powerful daily exercises to do at home so that you can reach the goal of healing and strengthening your core. This multi-level flowing Anusara Yoga class is open to all women, no matter how old your children are. Babies are not included in this class. (Please check the schedule for Yoga For Two Baby & Me classes.)




Yoga For Two | Prenatal Yoga Teacher Training

(Part I)

Join us for a 25-hour Yoga for Pregnancy Part 1 Teacher Training program with Mary Barnes.

CURRICULUM

Learn how to accommodate pregnant women who attend your group yoga classes
Prepare to teach private prenatal yoga sessions
Sequence and teach Prenatal Yoga classes.
General background of pregnancy,including knowledge of student's relationship with healthcare providers, and how to recognize high risk vs. low risk pregnancy
Yoga philosophy to uplift your students as they co-create with the universe
Principles of alignment and yoga techniques specialized to the needs of pregnant women, including anatomy & physiology, hormonal impact on the joints and connective tissue
Exercises to strengthen transverse abdominal muscle and pelvic floor
Anatomy of the pelvis, and common discomforts of pregnancy and how to help them
Modifications for all stages of pregnancy, working with different levels of yoga experience and what poses are contraindicated during pregnancy
Prenatal Yoga class demos are included, as well as class sequencing design, practice teaching one-on-one; team-teaching a practice class.

This training is specifically designed for: Yoga Teachers, Teachers of Children's Yoga or Family Yoga, Fitness Professionals and Childbirth Doulas with experienced yoga practices, who want a greater working knowledge of prenatal yoga.

Teachers interested in the full 85 hour Registered Prenatal Yoga Teacher Training can also register for:

Yoga for Pregnancy & Childbirth (Part II) September 15-17, 2017
Postpartum/Baby & Me Yoga (Part III) Teacher Training October 20-22, 2017.

SCHEDULE

Friday, June 16 - Sunday June 18 & Friday, June 23

Friday, June 16 | 6:00pm-9:00pm
Saturday June 17 | 10:00am-6:00pm
Sunday | June 18 10:00am-6:00pm
Friday June 23 | 2:00pm - 5:00pm

**Observation to at least one Prenatal Yoga class at Pure Yoga.

PRICING




Member | $575

Non Member | $600

Pure Yoga TT Grad | $550

ABOUT MARY BARNES

Mary Barnes (E-RYT 500 and RPYT), Pure Yoga's Family Programing Manager, is one of New York City's most energetic and well-respected yoga instructors. Teaching yoga since 1990 and specializing in pre- and postnatal yoga since 1993, Mary offers classes at Pure Yoga East and West that are invigorating, enlightening, and joyful. Whether teaching pregnant women and couples or new moms and their babies, she incorporates the full range of yoga poses, along with expert attention to alignment and breathing. She founded Yoga For Two and developed a series of classes and workshops including Yoga for Hormonal Balance, Yoga for Pregnancy, Prenatal Yoga, Couple's Yoga for Labor & Delivery, and Postpartum Baby & Me and Momma Core Yoga, as well as her Teacher Training workshops. She subsequently trained for over 500 hours in Anusara Yoga with its founder John Friend and other top Anusara Yoga teachers, including intensive therapeutics training. Her greatest teachers, however, have been the hundreds of women who have taken her workshops since 1993. Mary believes that yoga can help women become strong and centered, and in touch with their intuition, which makes them feel more confident—and more competent—as they prepare for motherhood. The Barnes Method Prenatal and Mom & Baby Teacher Trainings are offered nationally and internationally --- since 2001.