Karen Nourizadeh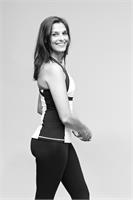 Karen teaches adults and children to focus on alignment and pay personal attention to their bodies.
Vinyasa Flow, Hot Power, Beginner's Series, Meditation, Yoga Philosophy
EXPERIENCE & CERTIFICATIONS
Certified Yoga Instructor (kids and adults)
Karen Nourizadeh instructs the following:
This class begins with a fiery Yang(Vinyasa) practice to build heat in the body. This heat prepares the body to then melt deeply into 30 minutes of Yin yoga (restorative, deep release).




Vinyasa is characterized by flowing poses and sequences that are linked to the breath. This class is diverse and sequencing will vary with instructor philosophy and in general is a vigorous, more athletic approach to yoga.




Yoga Nidra (Psychic sleeping) – Yoga Nidra is the art of conscious relaxation. It is a powerful practice where the body and mind are liberated from their tensions and anxiety. One learns how to put the body into sleep while the mind remains fully awake. The brain wave drops into the theta state where deep levels of healing takes place on the emotional, mental, and physical planes.




Vinyasa Basics focuses on correct breathing, postural alignment and sequencing of asanas in a traditional order, to help students cultivate a safe and well supported practice.




This class is tailored to the enhancement of prana (life force) throughout the entire human organism. The bandhas are external locks which aid to unlock the internal koshas (internal layers of the subtle bodies). It will aid the student in finding deep levels of relaxation, concentration, and self-awareness.




Group meditation classes offer students of all levels a chance to integrate conscious relaxation into their practice and to learn a variety of accessible meditation techniques.




An iyengar inspired introduction to the fundamentals of yoga with an explanation of the postures combined with correct breathing techniques. Class is conducted at a more relaxed pace where students are encouraged to ask questions. Ideal for first timers




Restorative yoga is a deeply relaxing way of practicing yoga. Given props, the student achieves poses without much muscular strength, facilitating deep release in the connective tissue and calming the nervous system. Teachers may offer a meditative focus




Yin yoga is characterized by poses supported by props (blanket, block, bolster). To differentiate it from a restorative class, yin will get deep into the soft tissue of the body. It's less restful, and geared more towards a functional release of deep muscle tissue.