Jess Ray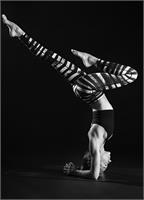 HOMETOWN: Gorham Maine
PHILOSOPHY: With vibrant music and a passion for inversions Jess's dynamic sequencing guides students through fluid movement based in strength and flexibility. She believes through challenge and transformation on the mat we can build the confidence and strength we need to thrive through challenges we face off the mat.
CLASSES AT PURE: Vinyasa, Hot Vinyasa, Hot Power
EXPERIENCE & CERTIFICATIONS: 200 Hour Vinyasa Yoga Certification through Back Bay Yoga & 300 Hour Advanced Vinyasa Certification through Laughing Lotus Center.
MENTORS: Dana Trixie Flynn & Raghunauth Cappo
BEFORE YOGA: HR Manager in Retail
Jess Ray instructs the following:
Vinyasa is characterized by flowing poses and sequences that are linked to the breath. This class is diverse and sequencing will vary with instructor philosophy and in general is a vigorous, more athletic approach to yoga.