Carolina Rivera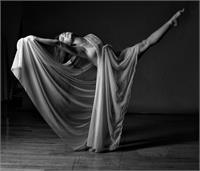 HOMETOWN
Santiago, Chile
PHILOSOPHY
Learn something from everyone around you and be your personal best!
CLASSES AT PURE
Figure 4
EXPERIENCE & CERTIFICATIONS
BFA in Dance University of Chile, Martha Graham School, Gyrotonic® Certification
MENTORS
My mother Patricia Moreno, my husband Joseph Encinia and my teachers Graciela Kozak and Jae Man Joo
BEFORE YOGA
Professional Dancer and Fitness Model
Carolina Rivera instructs the following:
Figure 4 Fierce combines all the benefits of a dance cardio class with the strengthening and toning elements of a standard Figure 4 barré class. This is a high intensity workout that mixes cardiovascular aerobic dance combinations with interval training to target the thighs, arms, abs, and glutes. Easy to follow, energetic moves are created to make you burn calories and release endorphins. No worries, this is not zumba and you won't be twerking! All moves are easy to follow and focus on keeping your heart rate elevated and your confidence soaring. Sneakers are required for class.




Combining the benefits of ballet, Pilates and prenatal yoga, our signature baby-wearing barre class provides mom with a workout that will tone and strengthen her post natal body while creating a stronger bond with baby. For parents and babies up to one year, please bring a suitable carrier comfortable for you and baby.




Created by a NYC ballet dancer and exclusively at Pure, Figure 4 is the most challenging barre experience out there, enhancing precision dance techniques with strength training. With high-energy choreography and interval cardio, Figure 4 keeps your pulse pounding while forging a lean, sculpted physique focusing on the thighs, arms, abs, and glutes. Socks with grips or bare feet for class.




In this challenging program suitable for all levels, there is an emphasis on alignment, stretching, and proper technique. Instructors are hands-on and guide the class at a slower pace, making it ideal for beginners or those looking to build a stronger foundation.




Takes our premium Figure 4 Barre class and cranks up the intensity level by several notches. This non-stop workout targets every muscle repetitively and maximizes results by adding in a heart pumping, calorie blasting, cardio element. Level: Advanced, 2/3, should be familiar with Figure 4 Barre format. Not recommended for clients with prominent injuries or are who are pregnant.