Adrian Molina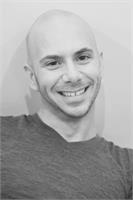 HOMETOWN:
Buenos Aires, Argentina
PHILOSOPHY:
A strong, flexible body, a calm mind, and an open heart help us face everyday challenges. Adrian approaches his practice and his teaching with deep respect. Yoga is self-discovery, self-exploration—and ultimately a doorway to freedom. There are many ways to the same destination. Everything in moderation.
CLASSES AT PURE:
Warrior Flow™, Vinyasa, Hot Vinyasa, Power.
EXPERIENCE & CERTIFICATIONS:
Background: Ashtanga. Vinyasa. Kundalini. Kriya Yoga. Massage Therapist. Reiki Practiioner. Thai Massage Practitioner. Writer. More than 10 years and 15,000 classroom hours of teaching experience. Founder of Warrior Flow™.
MENTORS:
Fred Busch. Paul Toliuszis. Dennis Hunter.
BEFORE YOGA:
Massage Therapist
Adrian Molina is currently not instructing any classes.