Holly Corey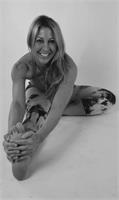 Philosophy: Life is not living, unless you're living in health...
A competitive gymnast in her youth and an avid athlete in her adulthood, Holly knows the importance of functional movements. Specializing in core stability, balance and flexibility, she believes a healthy body is a happy body. She combines her enthusiasm and love of yoga and fitness with a knowledge of alignment and body mechanics. Her approach is an athletic style of yoga and cross training, always focussing on keeping it fun, challenging, creative and safe. Her goal is to help you along the way and provide you with positive support and encouragement to attain your goals on and off the mat.
Classes at Pure: PXT Cross Training
Experience & Certifications: 200 hour RYT Certification from Pure Yoga, American Council of Exercise (ACE) Personal Trainer and Group Fitness Instructor, M.E.L.T Method, PowerStrike Kickboxing Instructor, certified Pilates Mat Instructor
Mentors: Loren Bassett, Kay Kay Clivio and Yogi Charu
Before Yoga: Radio/Television Sales, Corporate Recruiter
Holly Corey instructs the following:
Taught in the heated room, this style works through poses and sequences linked to breath. Sequencing will vary with instructor philosophy in this vigorous and fluid approach to yoga.




Pure Cross Training (PXT) delivers a dynamic full-body 60 minute workout, consisting of an energetic yoga warmup, high intensity cardio intervals, strength training, and core work to maximize results.




This is an advanced level power yoga class taught in a room heated to 100 degrees. The heat will provide for a detoxifying sweat while you flow through an athletic and dynamic sequence of postures.