Rachel Durga Page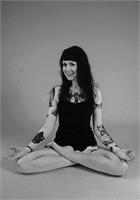 HOMETOWN
Newmarket, England
PHILOSOPHY
Rachel's classes focus not only on awareness of the body, but also awareness of the breath, mind and spirit. She humbly offers the teachings to encourage more conscious living.
CLASSES AT PURE
Hot Power Yoga
EXPERIENCE & CERTIFICATIONS
15 years practice, 12 years teaching, 500 hours Integral Yoga certified, 200 hours Hatha certified, ITM (Thailand) Thai yoga certified, teacher trainer at New York Yoga, Prana Power Yoga and Yoga People Brooklyn with a focus on meditation, pranayama, chakras, restorative yoga and Yoga Sutras.
MENTORS
Swami Asokananda, Swami Ramananda, Lisa Asha Rapp
BEFORE YOGA
World traveller, Peace Corps volunteer
Rachel Durga Page is currently not instructing any classes.