Annette Vetere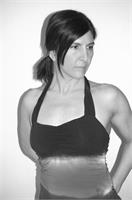 Hometown:
North Haledon, NJ
Philosophy:
With a focus on alignment, Annette teaches with the intention of using breath as a meditative way to stay present and create space in mind and body while flowing through each asana.
Classes at Pure:
Hot Vinyasa, Vinyasa, Open Level Vinyasa
Experience and Certifications:
Experience: Practicing since 2010 and teaching since 2012.
Certifications: 200-Hour RYT with Kay Kay Clivio and Yogi Charu, 100-Hour Mentorship with Tanya Boulton, 100-Hour Prema Therapeutics training with Jon Witt and Dana Slamp, Yin Yoga with Kate Kuss, Children's yoga from Karma Kids, IM=X Pilates trained, Reiki Level 1&2.
Mentors:
Tanya Boulton
Before Yoga:
Licensing and recruiting in the Fashion Industry
Annette Vetere instructs the following:
This is an open level power yoga class taught in a room heated to 100 degrees. The heat will provide for a detoxifying sweat while you flow through an athletic and dynamic sequence of postures.




Take it slow with this gentle, but deep approach to Vinyasa yoga. This practice links poses to breath to reveal body awareness, inner strength, and opening.




Vinyasa is characterized by flowing poses and sequences that are linked to the breath. This class is diverse and sequencing will vary with instructor philosophy and in general is a vigorous, more athletic approach to yoga.




Yoga Nidra (Psychic sleeping) – Yoga Nidra is the art of conscious relaxation. It is a powerful practice where the body and mind are liberated from their tensions and anxiety. One learns how to put the body into sleep while the mind remains fully awake. The brain wave drops into the theta state where deep levels of healing takes place on the emotional, mental, and physical planes.