Nina Marchione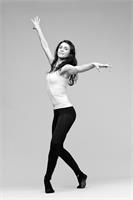 Nina Marchione
HOMETOWN
Northeast Ohio
PHILOSOPHY
We are all trying to reach for the next stage in our personal evolutions. Motivating people in a positive direction on that journey is what inspires me to teach!
CLASSES AT PURE
Figure 4
EXPERIENCE & CERTIFICATIONS
BFA in Dance and Musical Theater, Dancer for the NBA's Cleveland Cavaliers, 200-Hour Yoga Certification, Barre Method for Nike
MENTORS
Hope and Zoe Schultz
BEFORE YOGA
Professional dancer, barre/yoga instructor
Nina Marchione instructs the following:
In this challenging program suitable for all levels, there is an emphasis on alignment, stretching, and proper technique. Instructors are hands-on and guide the class at a slower pace, making it ideal for beginners or those looking to build a stronger foundation.




Created by a NYC ballet dancer and exclusively at Pure, Figure 4 is the most challenging barre experience out there, enhancing precision dance techniques with strength training. With high-energy choreography and interval cardio, Figure 4 keeps your pulse pounding while forging a lean, sculpted physique focusing on the thighs, arms, abs, and glutes. Socks with grips or bare feet for class.




Using body weight and heavy resistance, larger muscle groups are worked in controlled intervals resulting in a lean body with a bonus of maximum calorie burn. Attention to technique, efficiency and recovery are the science behind transformation in this revamped Figure 4 Barre workout. Level: Advanced, 2/3, not recommended for clients with prominent injuries or are who are pregnant.




Pure Sweat & Sculpt is a unique blend of yoga flow, breath awareness, resistance bands, and weights. We activate, engage, light, tighten and tone your muscles; all designed to take your yoga practice to the next level. This class is a challenging 60 minutes in the hot room, set to inspiring music, with different movements to challenge form and stamina.




Takes our premium Figure 4 Barre class and cranks up the intensity level by several notches. This non-stop workout targets every muscle repetitively and maximizes results by adding in a heart pumping, calorie blasting, cardio element. Level: Advanced, 2/3, should be familiar with Figure 4 Barre format. Not recommended for clients with prominent injuries or are who are pregnant.