Nina Marchione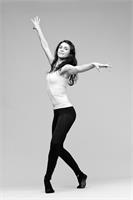 Nina Marchione
HOMETOWN
Northeast Ohio
PHILOSOPHY
We are all trying to reach for the next stage in our personal evolutions. Motivating people in a positive direction on that journey is what inspires me to teach!
CLASSES AT PURE
Figure 4
EXPERIENCE & CERTIFICATIONS
BFA in Dance and Musical Theater, Dancer for the NBA's Cleveland Cavaliers, 200-Hour Yoga Certification, Barre Method for Nike
MENTORS
Hope and Zoe Schultz
BEFORE YOGA
Professional dancer, barre/yoga instructor
Nina Marchione instructs the following:
Created by a NYC ballet dancer and exclusively at Pure, Figure 4 is the most challenging barre experience out there, enhancing precision dance techniques with strength training. With high-energy choreography and interval cardio, Figure 4 keeps your pulse pounding while forging a lean, sculpted physique focusing on the thighs, arms, abs, and glutes. Socks with grips or bare feet for class.




In this challenging program suitable for all levels, there is an emphasis on alignment, stretching, and proper technique. Instructors are hands-on and guide the class at a slower pace, making it ideal for beginners or those looking to build a stronger foundation.




Created by professional dancer Kate Albarelli, Pre/Postnatal Figure 4 is a full-body barre method exercise designed to strengthen and tone the body by using elements from ballet, Pilates, pre-natal yoga and weight training. For comfort & support, the class uses props such as ballet barres, pregnancy wedges, fitness balls & rings to allow for a safe and effective workout, without decreasing the intensity of the method. By targeting specific areas of the body such as thighs, abs, glutes and arms Pre/Postnatal F4 helps to keep weight down during pregnancy while preparing the body for labor and recovery. The high-energy class keeps your heart-rate in a "fat-burning zone," so the body safely burns fat while building muscle. Classes are limited to give the feel of a semi-private and to allow each student access to personal attention.




We start with the foundation of Figure 4's practice (posture, alignment, natural resistance), and add new choreography and fast-paced sequencing to challenge and transform the body in this more advanced program. A minimum of 5 Figure 4 classes is required before taking Figure 4 Fit.