Sho Higuchi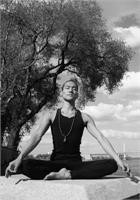 HOMETOWN
Queens, New York
PHILOSOPHY
Sho believes that the purpose of our lives is to be happy (and share this happiness with others) - this shines through in his class. He incorporates elements of unconditional love by building awareness in friendliness, joy, and equanimity among all souls.
CLASSES AT PURE
Yin, Restorative, Classical Hatha, Meditation, Yoga Nidra, Slow Flow
EXPERIENCE & CERTIFICATIONS
Student of meditation since age 7; 800 hour certified in Yogic Lifestyle & Science, Classical Hatha Yoga, Meditation & Pranayama, Restorative Yoga, Yin Yoga, Pre-natal Yoga; On-going training in Contortion, Circus Arts, Life-Coaching, Philosophy, and Yoga
MENTORS
Hisao "Genki" Horiguchi, Yogi Charu, Mary Aranas, Isaac Pena, Kazu Chan, Shelly Zagor
BEFORE YOGA
Pastry Chef
Sho Higuchi instructs the following:
Held in warm room, flow through creative sequences to encourage deep muscle tissue stretching and release. Temperature of room ranges around 100+degrees. Great way for athletes to cross-train. Focus on Safety and Alignment of each asana while holding poses 5-7 breaths to encourage deep stretching and opening. Learn benefits of each asana and pose sequences you can travel with to keep your muscles open while away from home.




An iyengar inspired introduction to the fundamentals of yoga with an explanation of the postures combined with correct breathing techniques. Class is conducted at a more relaxed pace where students are encouraged to ask questions. Ideal for first timers




Group meditation classes offer students of all levels a chance to integrate conscious relaxation into their practice and to learn a variety of accessible meditation techniques.




Yoga Nidra (Psychic sleeping) – Yoga Nidra is the art of conscious relaxation. It is a powerful practice where the body and mind are liberated from their tensions and anxiety. One learns how to put the body into sleep while the mind remains fully awake. The brain wave drops into the theta state where deep levels of healing takes place on the emotional, mental, and physical planes.




Restorative yoga is a deeply relaxing way of practicing yoga. Given props, the student achieves poses without much muscular strength, facilitating deep release in the connective tissue and calming the nervous system. Teachers may offer a meditative focus




Take it slow with this gentle, but deep approach to Vinyasa yoga. This practice links poses to breath to reveal body awareness, inner strength, and easeful opening. The later part of class includes a guided meditation for the ultimate yoga experience.




This class explores the traditional asanas (or "poses") of yoga, with basic to challenging options offerred. Calming breathing techniques and the meditative aspect of the practice may be featured.




This class is tailored to the enhancement of prana (life force) throughout the entire human organism. The bandhas are external locks which aid to unlock the internal koshas (internal layers of the subtle bodies). It will aid the student in finding deep levels of relaxation, concentration, and self-awareness.