Tiffany Cruikshank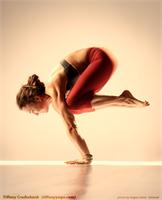 Tiffany is known for her fun, light-hearted classes that are sweaty, challenging and accessible for all levels.
Her love of music is evident so come prepared to rock out to old and new tunes to shake your soul and keep you on your toes. Her classes are a fun while building strength, elasticity, stability and ease in the tissues to embrace your full potential.
Come to shake off your day, ease into your body and inspire your week. Her classes are lightly heated (around 90 degrees) but induce a generous sweat, so grab a towel and get ready to rock.
Some vinyasa experience is recommended.
For Tiffany's full calendar of events and info on retreats, trainings & workshops go to www.TiffanyYoga.com
Tiffany Cruikshank is currently not instructing any classes.