Christina Ilisije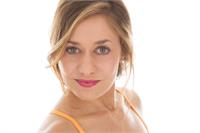 HOMETOWN
Manalapan, New Jersey
PHILOSOPHY
Teaching offers me the opportunity to push people beyond what they believe they can achieve and make them feel confident. If I'm lucky, we'll share a chuckle or two along the way.
CLASSES AT PURE
Figure 4
EXPERIENCE & CERTIFICATIONS
BFA in Dance (Summa Cum Laude), Lotte Berk
MENTORS
Shawn McCormack, Kate Albarelli
BEFORE YOGA
Professional Dancer
Christina Ilisije instructs the following:
Created by a NYC ballet dancer and exclusively at Pure, Figure 4 is the most challenging barre experience out there, enhancing precision dance techniques with strength training. With high-energy choreography and interval cardio, Figure 4 keeps your pulse pounding while forging a lean, sculpted physique focusing on the thighs, arms, abs, and glutes. Socks with grips or bare feet for class.




Figure 4 Fierce combines all the benefits of a dance cardio class with the strengthening and toning elements of a standard Figure 4 barré class. This is a high intensity workout that mixes cardiovascular aerobic dance combinations with interval training to target the thighs, arms, abs, and glutes. Easy to follow, energetic moves are created to make you burn calories and release endorphins. No worries, this is not zumba and you won't be twerking! All moves are easy to follow and focus on keeping your heart rate elevated and your confidence soaring. Sneakers are required for class.




Takes our premium Figure 4 Barre class and cranks up the intensity level by several notches. This non-stop workout targets every muscle repetitively and maximizes results by adding in a heart pumping, calorie blasting, cardio element. Level: Advanced, 2/3, should be familiar with Figure 4 Barre format. Not recommended for clients with prominent injuries or are who are pregnant.




Take the express route in the 45 minute class designed for those who want to achieve the benefits of Figure 4's all-around approach in minimal time.