Elizabeth Sousek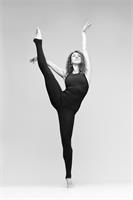 Elizabeth Sousek
HOMETOWN
Minneapolis, Minnesota
PHILOSOPHY
Elizabeth loves incorporating her dance experience into each and every Figure 4 class
CLASSES AT PURE
Figure 4
EXPERIENCE & CERTIFICATIONS
3 Years, BFA in Dance Performance, Member of The Rockettes
MENTORS
Kate Albarelli, Debbie Roshe, Denise Vale, Katie Langan, Kia Lee
BEFORE YOGA
Professional Dancer
Elizabeth Sousek instructs the following:
Created by a NYC ballet dancer and exclusively at Pure, Figure 4 is the most challenging barre experience out there, enhancing precision dance techniques with strength training. With high-energy choreography and interval cardio, Figure 4 keeps your pulse pounding while forging a lean, sculpted physique focusing on the thighs, arms, abs, and glutes. Socks with grips or bare feet for class.




Takes our premium Figure 4 Barre class and cranks up the intensity level by several notches. This non-stop workout targets every muscle repetitively and maximizes results by adding in a heart pumping, calorie blasting, cardio element. Level: Advanced, 2/3, should be familiar with Figure 4 Barre format. Not recommended for clients with prominent injuries or are who are pregnant.




Take the express route in the 45 minute class designed for those who want to achieve the benefits of Figure 4's all-around approach in minimal time.




Using the techniques of foam rolling, active isolated stretch and yin yoga, this class will aim to enhance mobility, reduce pain, increase flexibility and help restore balance to overused vs. underused muscles that are targeted in Figure 4 and all types of yoga.




In this challenging program suitable for all levels, there is an emphasis on alignment, stretching, and proper technique. Instructors are hands-on and guide the class at a slower pace, making it ideal for beginners or those looking to build a stronger foundation.




Using body weight and heavy resistance, larger muscle groups are worked in controlled intervals resulting in a lean body with a bonus of maximum calorie burn. Attention to technique, efficiency and recovery are the science behind transformation in this revamped Figure 4 Barre workout. Level: Advanced, 2/3, not recommended for clients with prominent injuries or are who are pregnant.