Donna Davidge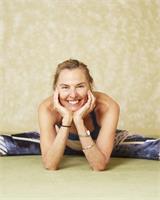 Home town Stamford CT
PHILOSOPHY- Yoga is a (fun!) healing tool for mind, body and spirit
Classes at PURE Hatha, Vinyasa, Restorative, Nidra, Basics, Meditation, Breath
Experience- 500 Hour E-RYT, 3HO certified, IAYT
MENTORS- Yogi Bhajan, Genny Kapuler, Dharma Mittra, Eddie Stern.
Before Yoga- MS Nutrition
Www.donnadavidgeyoga.com
Donna Davidge instructs the following:
Vinyasa is characterized by flowing poses and sequences that are linked to the breath. This class is diverse and sequencing will vary with instructor philosophy and in general is a vigorous, more athletic approach to yoga.




Held in warm room, flow through ashtanga-like sequences to encourage deep muscle tissue stretching and release.Warmly heated room to encourage opening of muscles.Temperature of room ranges around 80+degrees.Great way for athletes to cross-train.Focus on Safety and Alignment of each asana while holding poses 5-7 breaths to encourage deep stretching and opening.Learn benefits of each asana and pose sequences you can travel with to keep your muscles open while away from home.