Sonja Rzepski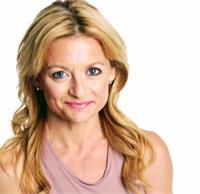 HOMETOWN
Upstate NY Finger Lakes Region
PHILOSOPHY

In order to enter a state of grace, or even visit it for a moment, we must begin to pay attention to what is—to connect. Whether the present moment is as we (or others) think it "should" be is not a concern in yoga. Yoga relieves us from that judgement. It requires us to express from a clearer version of ourselves; to gain perspective. Do not underestimate the power of this clarity; to promote and attract compassion, joy, strength, and a reflective intelligence.
CLASSES AT PURE
Vinyasa, Slow Flow, Alignment Basics, Yin/Yang
EXPERIENCE & CERTIFICATIONS International Association of Yoga Therapists certified, Ashtanga practitioner 16 years, Yoga Rehabilitation, Yoga for Athletes, Prenatal Yoga, Samahita Yoga Institute, Nutrition, Women's Health, Foundations of Flexibility and Alignment, Functional Anatomy.
MENTORS
Paul Dallaghan, Eddie Stern, Pattabhi Jois
BEFORE YOGA
Aerial Acrobat
Sonja Rzepski instructs the following:
Vinyasa is characterized by flowing poses and sequences that are linked to the breath. This class is diverse and sequencing will vary with instructor philosophy and in general is a vigorous, more athletic approach to yoga.




This class begins with a fiery Yang(Vinyasa) practice to build heat in the body. This heat prepares the body to then melt deeply into 30 minutes of Yin yoga (restorative, deep release).




This therapeutic class is designed to develop ease, healthy alignment, and body awareness. Props and mindful adjustments in posture are used to aid body awareness and focus. It's yoga without the "om."