Tanya Boulton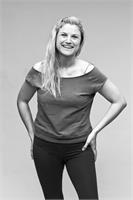 Tanya Boulton
HOMETOWN
Hong Kong (raised in Southern California)
PHILOSOPHY
Tanya is passionate about the sacredness that yoga brings into our lives, and teaches with the intention to guide others to stay present in their experiences both on and off the mat.
CLASSES AT PURE
Hot Power, Vinyasa
EXPERIENCE & CERTIFICATIONS
13 Years, E-RYT 500, Cranial Sacral Therapy, Shiatsu, M.S. in Special Education
MENTORS
Ana Forrest, Ellen Heed
BEFORE YOGA
High School Special Needs Teacher in L.A.
Tanya Boulton instructs the following:
Join Tanya Boulton and Lindsey Valdez for an open level vinyasa class benefiting The Crohn's and Colitis Foundation of America (CCFA). The CCFA Teen Group frequently plans projects that are aimed to raise awareness, funding, and support for Crohn's and Colitis. Many of the group's members are affected by these diseases, whether they suffer themselves or know someone else who has it.

Tanya taught math and yoga to inner city high school teens for five years on the rough streets of LBC (Long Beach, California). She saw the transformative nature of yoga and wanted to make yoga accessible to the people who needed it the most. After years of intense study with Ana Forrest in Santa Monica, she took her teaching to Hong Kong then New York City, and her yoga practice pushed her to find purpose with tanya-b, to give people a medium to express themselves and create an authentic brand that matches her vision.

$30 suggested donation; all the proceeds of this event to go to the Crohn's and Colitis Foundation of America (CCFA).




Taught in the heated room, this style works through poses and sequences linked to breath. Sequencing will vary with instructor philosophy in this vigorous and fluid approach to yoga.




Vinyasa is characterized by flowing poses and sequences that are linked to the breath. This class is diverse and sequencing will vary with instructor philosophy and in general is a vigorous, more athletic approach to yoga.