Kay Kay Clivio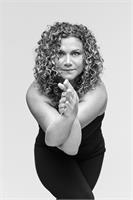 Kay Kay Clivio
HOMETOWN
Medford, Massachusetts
PHILOSOPHY
I am mindful when I teach and that I am a guardian and preserver of a sacred tradition. I am here to serve as a conduit between it and the divinity within its students. I work to stay open and receptive to what each individual student needs so that I might act as a channel of this beauty as much as possible.
CLASSES AT PURE
Hot Power, Slow Flow, Yin Yang, Vinyasa
EXPERIENCE & CERTIFICATIONS
Practicing for 17 Years and teaching for 12 years, former instructor at Pure Yoga Hong Kong, Senior Teacher at Pure Yoga New York, Head of Pure Yoga's Teacher Training Program
MENTORS
Bikram, Ana Forrest, Baron Baptiste, John Friend, Shri K. Pattabhi Jois, Patrick Creelman and Gil Hedley
BEFORE YOGA
Competitive Outrigger Canoe Paddler in Hawaii
Kay Kay Clivio instructs the following:
This class begins with a fiery Yang(Vinyasa) practice to build heat in the body. This heat prepares the body to then melt deeply into 30 minutes of Yin yoga (restorative, deep release).




Whether you aspire to instruct, or simply wish to grow your practice to a new level, Pure Yoga's Teacher Trainings will evolve and enhance your existing yoga routine under the guidance of world-class instructors.
Beginning with the fundamentals of Iyengar-based alignment, explore the dynamics of vinyasa, delve into philosophical studies of the classic texts, and discover your inner power. Our goal is that through the exploration of diverse practices you will experience your one true path.

CURRICULUM

Focus on practice of asana and alignment technique
Yoga Tune Up® Anatomy course by Jill Miller
Introduction to pranayama and meditation
Teaching Methodology
Sequencing Classes
Manual Adjustments
Effective Communication & Presentation Skills
Teaching Practicum and Development
Applied anatomy and kinesiology
Basic Sanskrit and chanting
Yoga ethics and philosophy
The business of yoga

SCHEDULE

September 28th - December 9th

Fridays | 6:00pm - 9:00pm

Saturdays | 9:00am - 6:00pm

Sundays | 9:00am - 6:00pm (only five)

*No classes Thanksgiving weekend

PRICING

Non Member | $4000

Equinox Member | $3750

Pure Member | $3500

*Early Bird: Save 10% if you register by September 9th

*If you want to arrange a payment plan, you must email Andrea Borrero to process payment: To register please email andrea.borrero@pureyoga.com.

A three-month all-access yoga membership to Pure Yoga is included.




Taught in the heated room, this style works through poses and sequences linked to breath. Sequencing will vary with instructor philosophy in this vigorous and fluid approach to yoga.




This is an open level power yoga class taught in a room heated to 100 degrees. The heat will provide for a detoxifying sweat while you flow through an athletic and dynamic sequence of postures.