Kay Kay Clivio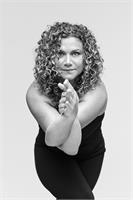 Kay Kay Clivio
HOMETOWN
Medford, Massachusetts
PHILOSOPHY
I am mindful when I teach and that I am a guardian and preserver of a sacred tradition. I am here to serve as a conduit between it and the divinity within its students. I work to stay open and receptive to what each individual student needs so that I might act as a channel of this beauty as much as possible.
CLASSES AT PURE
Hot Power, Slow Flow, Yin Yang, Vinyasa
EXPERIENCE & CERTIFICATIONS
Practicing for 17 Years and teaching for 12 years, former instructor at Pure Yoga Hong Kong, Senior Teacher at Pure Yoga New York, Head of Pure Yoga's Teacher Training Program
MENTORS
Bikram, Ana Forrest, Baron Baptiste, John Friend, Shri K. Pattabhi Jois, Patrick Creelman and Gil Hedley
BEFORE YOGA
Competitive Outrigger Canoe Paddler in Hawaii
Kay Kay Clivio instructs the following:
Taught in the heated room, this style works through poses and sequences linked to breath. Sequencing will vary with instructor philosophy in this vigorous and fluid approach to yoga.




Explore the tropical island of Oahu with Kay Kay Clivio and Yogi Charu. Hang loose Hawaiian style and experience the best of Oahu. Join us for transformational yoga, moving meditation sessions on mountain sides, flow on the world's most iconic beaches and bask I the vibrant energy of the Aloha state.

DAY 1 | Saturday, January 21st Arrival Day.

You will arrive at the Honolulu International Airport and take either a taxi or Uber to hotel. A short thirty-minute drive and you will arrive at The Kahala Resort; a legendary luxury five star hideaway, visited by stars, Presidents and Royalty. Your home for the next week!

6:00PM | Post Plane Yoga and Meditation Yoga Practice. Get grounded and absorb the healing energy of the island!

DAY 2 | Sunday, January 22nd

6:00AM | Sunrise hike to Makapu'u Point Lighthouse trail. See outstanding views of O'ahu's Coastline, including Koko Head and Koko Crater. This time of the year we may even see humpback whales.

10:00AM | Morning Yoga & Meditation + Breakfast. 12:00PM – 6:00PM | Free time (Relax by the pool, watch the dolphins, go for a swim in the blue, or navigate the island as you choose.)

6:00PM | Yoga and Sunset Meditation Yoga

DAY 3 | Monday, January 23rd

9:00AM | Morning Yoga and Meditation

Time TBD | Visit the North Shore. We will spend some downtime at the iconic beaches of Waimea Bay and Pipeline to see professional surfers from around the world ride the Big Waves. We will have plenty of time to shop in Haleiwa; this tiny town has some of the world's best local art and food!

6:00PM | Yin Yoga and Sunset Meditation Yoga

DAY 4 | Tuesday, January 24th

8:00AM | Oceanside Morning Yoga and Meditation + Breakfast Free day! Relax on the beach, take a surf lesson, learn Hula dancing, bike the island, or shop in Waikiki!

5:00PM | Hawaiian Outrigger Canoe Adventure. Kay Kay's Canoe club will take us out for a lesson paddling the traditional Hawaiian Outrigger Canoes.

DAY 5 | Wednesday, January 25th

6:00AM | Sunrise Hike to Historic Diamond Head. This is Hawaii's most recognized landmark with coastal views and military history.

Time TBD | Yoga and Meditation + Breakfast

12:00PM | Eastern Island Beach Day. Swim and Snorkel in the beautiful crystal clear waters!

4:30PM | Paradise Cove Expedition for an authentic Hawaiian luau! We will be transported back to the Hawaiian culture through the dance, food, and fun.

DAY 6 | Thursday, January 26th

Departure Day

8:00AM | Farewell Yoga and Meditation & Celebration

Retreat Includes:

Daily Yoga & Meditation Classes
Five Night Accommodation at Kahala Resort Daily
Wholesome Breakfast Daily
Group Visit to The North Shore
Group Visit to the Eastern Coastline Beaches
Group Hike to the Historic Diamond
Group Adventure to Hawaiian Outrigger Canoe
Sunrise Hike to Makapu'u Point Lighthouse
Free time to explore the Island of Oahu Kahala Resort

More about Kay Kay Clivio

More about Yogi Charu

RATES

Single Occupancy | $3500

Double Occupancy | $2850

Triple Occupancy | $2250

*all prices are per person

$500 Deposit required to secure your room by November 15th. Space is limited.

*Note times & events may change while on the island.




This is an open level power yoga class taught in a room heated to 100 degrees. The heat will provide for a detoxifying sweat while you flow through an athletic and dynamic sequence of postures.




Vinyasa is characterized by flowing poses and sequences that are linked to the breath. This class is diverse and sequencing will vary with instructor philosophy and in general is a vigorous, more athletic approach to yoga.




This class begins with a fiery Yang(Vinyasa) practice to build heat in the body. This heat prepares the body to then melt deeply into 30 minutes of Yin yoga (restorative, deep release).




Join us for a class and information session about Pure Yoga Teacher Training.

You'll have the chance to learn more about our curriculum, speak to previous graduates of the program and meet our teachers, Kay Kay Clivio and Adam Vitolo. A short asana practice will be followed by a Q+A session.



Juice Press will provide juice & treats post session.