Vinyasa Jam 2/3 (The Jam)
This class is taught by:
Miles Borrero
HOMETOWN
Bogota, Colombia
PHILOSOPHY
Miles encourages her students to find the sweet spot when two opposites balance in perfect dynamic tension to achieve the purest expression of joy and calm.
CLASSES AT PURE
Vinyasa
EXPERIENCE & CERTIFICATIONS
12 years of practice, 200 E-RYT, Advanced Forrest Yoga, Restore and Renew with Judith Lasater, Thai Massage Certified
MENTORS
Raghunath Cappo, Christie Clark, Ana Forrest, Phillip Askew, Schuyler Grant and a long, ever shifting list of wonderful teachers I take class from in this magical city.
BEFORE YOGA
Trained in conservatory as an actor, horseback rider, singer in a band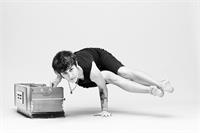 This two hour master class is an opportunity to play. Whether you were born in yoga nidra or are stiff as a board, this class is for you. Forget about perfection and let yourself get lost in the experience as asana, pranayama, chanting, stories, and live music are weaved together to create a magical, feel good class. Yoga is the new brunch! Tap into both your physical and spiritual dharma as you ride the percussion of your breath to come together and create a sweet space of community, life and dynamism.
Upcoming classes:
Sign Up

Sun

Nov 18 12:30 pm - 2:30 pm

with

Miles

Borrero




Sun

Nov 25 12:30 pm - 2:30 pm

with

Miles

Borrero




Sun

Dec 02 12:30 pm - 2:30 pm

with

Jackie

Plush




Sun

Dec 09 12:30 pm - 2:30 pm

with

Miles

Borrero




Sun

Dec 16 12:30 pm - 2:30 pm

with

Miles

Borrero




Sun

Dec 23 12:30 pm - 2:30 pm

with

Miles

Borrero




Sun

Dec 30 12:30 pm - 2:30 pm

with

Joseph

Sbarro