Slow Flow (Open)
This class is taught by:
HOMETOWN
Cairo, Egypt
PHILOSOPHY
Yoga is harmony through living mindfully on and off the mat. On the mat, I aim to provide a safe grounded space for my students to explore how: awareness of their breath, intelligent alignment, and thoughtful movement can expand their physical boundaries while bringing harmony and unity to mind body and spirit.
CLASSES AT PURE
Basics, restorative, meditation, slow flow classical hatha, vinyasa 1, 2 and 2/3
EXPERIENCE & CERTIFICATIONS
ERYT-200, 75 hour advanced Kula training, meditation, Thai massage
MENTORS
Nikki Vilella, Nikki Castello, Magi Pierce, and Schuyler Grant
BEFORE YOGA
Wildlife Biologist/Environmental Scientist
HOMETOWN
North Haledon, NJ
PHILOSOPHY
With a focus on alignment, Annette teaches with the intention of using breath as a meditative way to stay present; releasing what does not serve the body and mind in a positive way. Her intention is to support healing in the body and clear the mind to connect with your spiritual self.
CLASSES AT PURE
Hot Vinyasa, Vinyasa, Restorative, Slow Flow
EXPERIENCE & CERTIFICATIONS
Teaching since 2012. e-RYT 200, 200-Hour RYT with Kay Kay Clivio and Yogi Charu, 100-Hour Mentorship with Tanya Boulton, 100-Hour Prema Therapeutics training with Jon Witt and Dana Slamp, Yin Yoga with Kate Kuss, Children's yoga from Karma Kids, IM=X Pilates trained, Reiki Level 1&2. Working towards a 500-Hour advanced therapeutics training with Yoga Medicine (Tiffany Cruikshank) Energy healing through Angel Quest (Karen Noe)
MENTORS
Tanya Boulton
BEFORE YOGA
Licensing and recruiting in the Fashion Industry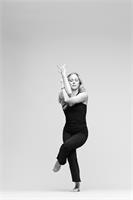 HOMETOWN
North Carolina
PHILOSOPHY
Pam encourages students to find the interconnections of body, mind and soul and to take what we learn on the yoga mat into all areas of their life.
CLASSES AT PURE
Vinyasa
EXPERIENCE & CERTIFICATIONS
12 Years, Therapeutic Yoga
MENTORS
Charles and Lisa Matkin
BEFORE YOGA
Advertising
Take it slow with this gentle, but deep approach to Vinyasa yoga. This practice links poses to breath to reveal body awareness, inner strength, and opening.
Upcoming classes:
Sign Up

Sat

Dec 16 11:30 am - 12:45 pm

with

Ahmed

Soliman




Sign Up

Sun

Dec 17 5:00 pm - 6:00 pm

with

Annette

Vetere




Sign Up

Mon

Dec 18 5:00 pm - 6:00 pm

with

Pam

Reece




Sat

Dec 23 11:30 am - 12:45 pm

with

Ahmed

Soliman




Sat

Dec 30 11:30 am - 12:45 pm

with

Ahmed

Soliman




Sat

Jan 06 11:30 am - 12:45 pm

with

Ahmed

Soliman




Sun

Jan 07 5:00 pm - 6:00 pm

with

Annette

Vetere




Mon

Jan 08 5:00 pm - 6:00 pm

with

Pam

Reece




Sat

Jan 13 11:30 am - 12:45 pm

with

Ahmed

Soliman




Sun

Jan 14 5:00 pm - 6:00 pm

with

Annette

Vetere




Mon

Jan 15 5:00 pm - 6:00 pm

with

Pam

Reece




Sat

Jan 20 11:30 am - 12:45 pm

with

Ahmed

Soliman




Sun

Jan 21 5:00 pm - 6:00 pm

with

Annette

Vetere




Mon

Jan 22 5:00 pm - 6:00 pm

with

Pam

Reece




Sat

Jan 27 11:30 am - 12:45 pm

with

Ahmed

Soliman




Sun

Jan 28 5:00 pm - 6:00 pm

with

Annette

Vetere