Pre/Post Natal Figure 4 (Open)
This class is taught by: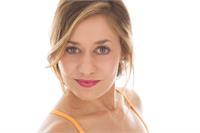 HOMETOWN
Manalapan, New Jersey
PHILOSOPHY
Teaching offers me the opportunity to push people beyond what they believe they can achieve and make them feel confident. If I'm lucky, we'll share a chuckle or two along the way.
CLASSES AT PURE
Figure 4
EXPERIENCE & CERTIFICATIONS
BFA in Dance (Summa Cum Laude), Lotte Berk
MENTORS
Shawn McCormack, Kate Albarelli
BEFORE YOGA
Professional Dancer
Created by professional dancer Kate Albarelli, Pre/Postnatal Figure 4 is a full-body barre method exercise designed to strengthen and tone the body by using elements from ballet, Pilates, pre-natal yoga and weight training. For comfort & support, the class uses props such as ballet barres, pregnancy wedges, fitness balls & rings to allow for a safe and effective workout, without decreasing the intensity of the method. By targeting specific areas of the body such as thighs, abs, glutes and arms Pre/Postnatal F4 helps to keep weight down during pregnancy while preparing the body for labor and recovery. The high-energy class keeps your heart-rate in a "fat-burning zone," so the body safely burns fat while building muscle. Classes are limited to give the feel of a semi-private and to allow each student access to personal attention.
Upcoming classes:
Sign Up

Wed

May 31 4:45 pm - 5:45 pm

with

Christina

Ilisije