Slow Flow Meditation (1)
This class is taught by: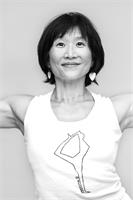 Mary Aranas
HOMETOWN
Taipei, Taiwan (raised in Toronto and Ottawa, Canada)
PHILOSOPHY
Mary embraces yoga as a perfect blend of athleticism, creativity and spirituality. She encourages her students to find their joyful edge of inner and outer strength, beauty and expression.
CLASSES AT PURE
Slow Flow Meditation, Yoga Nidra, Restorative
EXPERIENCE & CERTIFICATIONS
E-RYT 500. Practice since 1996 Teach since 2002. Certified: ISHTA, AcroYoga, YogaSlackers, Thai Yoga, C-IAYT Yoga Therapist, Reiki 2nd Degree.
MENTORS
Yogiraj Alan Finger
BEFORE YOGA
Actress in regional and off-Broadway theater
Take it slow with this gentle, but deep approach to Vinyasa yoga. This practice links poses to breath to reveal body awareness, inner strength, and easeful opening. The later part of class includes a guided meditation for the ultimate yoga experience.
Upcoming classes:
Sign Up

Mon

Jan 28 10:30 am - 12:00 pm

with

Mary

Aranas




Mon

Feb 04 10:30 am - 12:00 pm

with

Mary

Aranas




Mon

Feb 11 10:30 am - 12:00 pm

with

Mary

Aranas




Mon

Feb 18 10:30 am - 12:00 pm

with

Mary

Aranas




Mon

Feb 25 10:30 am - 12:00 pm

with

Mary

Aranas




Mon

Mar 04 10:30 am - 12:00 pm

with

Mary

Aranas




Mon

Mar 11 10:30 am - 12:00 pm

with

Mary

Aranas




Mon

Mar 18 10:30 am - 12:00 pm

with

Mary

Aranas




Mon

Mar 25 10:30 am - 12:00 pm

with

Mary

Aranas




Mon

Apr 01 10:30 am - 12:00 pm

with

Mary

Aranas




Mon

Apr 08 10:30 am - 12:00 pm

with

Mary

Aranas




Mon

Apr 15 10:30 am - 12:00 pm

with

Mary

Aranas




Mon

Apr 22 10:30 am - 12:00 pm

with

Mary

Aranas




Mon

Apr 29 10:30 am - 12:00 pm

with

Mary

Aranas




Mon

May 06 10:30 am - 12:00 pm

with

Mary

Aranas




Mon

May 13 10:30 am - 12:00 pm

with

Mary

Aranas




Mon

May 20 10:30 am - 12:00 pm

with

Mary

Aranas