Candlelight Flow (Heated) (2)
This class is taught by: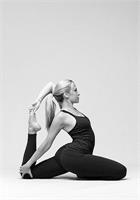 HOMETOWN
South Windsor, Connecticut
PHILOSOPHY
With her toe-tapping music and playful sequences, Rebecca hopes to challenge her students to push through mental and physical boundaries in order to reach a place of release.
CLASSES AT PURE
Hot Power Yoga, PXT, and Ashtanga
EXPERIENCE & CERTIFICATIONS
Pure Yoga Teacher Training, Vinyasa, Ashtanga, Hatha, M.A. in Opera Studies
MENTORS
Scott Harig, Yogi Charu & Maty Ezraty
BEFORE YOGA
Opera singer, bartender
Candle light flow is a heated, dynamic class that encompasses a strong standing flow to warm the body. After fifteen minutes of challenging standing poses, stretching floor poses allow us to breath through all our pains and problems and be free. Special attention is paid to hip opening leaving the class in utopia!
Upcoming classes:
Sign Up

Fri

Sep 28 6:15 pm - 7:15 pm

with

STAFF

STAFF




Fri

Oct 05 6:15 pm - 7:15 pm

with

STAFF

STAFF




Fri

Oct 12 6:15 pm - 7:15 pm

with

STAFF

STAFF




Fri

Oct 19 6:15 pm - 7:15 pm

with

STAFF

STAFF




Fri

Oct 26 6:15 pm - 7:15 pm

with

STAFF

STAFF




Fri

Nov 02 6:15 pm - 7:15 pm

with

Rebecca

Hajek




Fri

Nov 09 6:15 pm - 7:15 pm

with

Rebecca

Hajek




Fri

Nov 16 6:15 pm - 7:15 pm

with

Rebecca

Hajek




Fri

Nov 23 6:15 pm - 7:15 pm

with

Rebecca

Hajek




Fri

Nov 30 6:15 pm - 7:15 pm

with

Rebecca

Hajek




Fri

Dec 07 6:15 pm - 7:15 pm

with

Rebecca

Hajek




Fri

Dec 14 6:15 pm - 7:15 pm

with

Rebecca

Hajek




Fri

Dec 21 6:15 pm - 7:15 pm

with

Rebecca

Hajek




Fri

Dec 28 6:15 pm - 7:15 pm

with

Rebecca

Hajek