Classical Hatha (Open)
This class is taught by: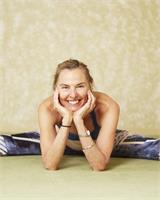 Home town Stamford CT
PHILOSOPHY- Yoga is a (fun!) healing tool for mind, body and spirit
Classes at PURE Hatha, Vinyasa, Restorative, Nidra, Basics, Meditation, Breath
Experience- 500 Hour E-RYT, 3HO certified, IAYT
MENTORS- Yogi Bhajan, Genny Kapuler, Dharma Mittra, Eddie Stern.
Before Yoga- MS Nutrition
Www.donnadavidgeyoga.com
This class explores the traditional asanas (or "poses") of yoga, with basic to challenging options offered. Calming breathing techniques and the meditative aspect of the practice may be featured.
Upcoming classes:
Sign Up

Sat

Nov 17 2:00 pm - 3:00 pm

with

Donna

Davidge




Sat

Nov 24 2:00 pm - 3:00 pm

with

Donna

Davidge




Sat

Dec 01 2:00 pm - 3:00 pm

with

Donna

Davidge




Sat

Dec 08 2:00 pm - 3:00 pm

with

Donna

Davidge




Sat

Dec 15 2:00 pm - 3:00 pm

with

Donna

Davidge




Sat

Dec 22 2:00 pm - 3:00 pm

with

Donna

Davidge




Sat

Dec 29 2:00 pm - 3:00 pm

with

Donna

Davidge




Sat

Jan 05 2:00 pm - 3:00 pm

with

STAFF

STAFF




Sat

Jan 12 2:00 pm - 3:00 pm

with

STAFF

STAFF




Sat

Jan 19 2:00 pm - 3:00 pm

with

STAFF

STAFF




Sat

Jan 26 2:00 pm - 3:00 pm

with

STAFF

STAFF




Sat

Feb 02 2:00 pm - 3:00 pm

with

STAFF

STAFF




Sat

Feb 09 2:00 pm - 3:00 pm

with

STAFF

STAFF




Sat

Feb 16 2:00 pm - 3:00 pm

with

STAFF

STAFF




Sat

Feb 23 2:00 pm - 3:00 pm

with

STAFF

STAFF




Sat

Mar 02 2:00 pm - 3:00 pm

with

STAFF

STAFF




Sat

Mar 09 2:00 pm - 3:00 pm

with

STAFF

STAFF