Ashtanga (2)
This class is taught by: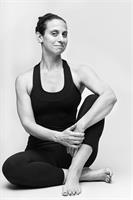 HOMETOWN
New York, NY
PHILOSOPHY
Andrea's strong flow is in an assimilation of anatomical knowledge, spiritual intention, meditation, and focused breath. An avid runner and kick-boxer, she loves the honesty found in simply moving and sweating.
CLASSES AT PURE
Vinyasa, Ashtanga, Hot Power
EXPERIENCE & CERTIFICATIONS
9 Years, 300-Hour Certification, ERYT-200 & RYT 500 with Yoga Alliance, Ashtanga, Meditation, Thai Yoga Massage, Marma Point Therapy, Yoga Tune Up®, MetaAnatomy Therapuetics, Kick-Boxing
MENTORS
Kristin Leal, David Swenson, Scott Harig, David Hollander, Jill Miller, Maty Ezraty, Yogi Charu
BEFORE YOGA
Documentary Producer
The classical form of power yoga as taught in its traditional sequence. Combines power and flexibility with movement, bandhas and breath to produce an energetic and detoxifying practice.
Upcoming classes:
Sign Up

Sat

Dec 15 9:30 am - 11:00 am

with

Andrea

Borrero




Sat

Dec 22 9:30 am - 11:00 am

with

Andrea

Borrero




Sat

Dec 29 9:30 am - 11:00 am

with

Andrea

Borrero




Sat

Jan 05 9:30 am - 11:00 am

with

Andrea

Borrero




Sat

Jan 12 9:30 am - 11:00 am

with

Andrea

Borrero




Sat

Jan 19 9:30 am - 11:00 am

with

Andrea

Borrero




Sat

Jan 26 9:30 am - 11:00 am

with

Andrea

Borrero




Sat

Feb 02 9:30 am - 11:00 am

with

Andrea

Borrero




Sat

Feb 09 9:30 am - 11:00 am

with

Andrea

Borrero




Sat

Feb 16 9:30 am - 11:00 am

with

Andrea

Borrero




Sat

Feb 23 9:30 am - 11:00 am

with

Andrea

Borrero




Sat

Mar 02 9:30 am - 11:00 am

with

Andrea

Borrero




Sat

Mar 09 9:30 am - 11:00 am

with

Andrea

Borrero




Sat

Mar 16 9:30 am - 11:00 am

with

Andrea

Borrero




Sat

Mar 23 9:30 am - 11:00 am

with

Andrea

Borrero




Sat

Mar 30 9:30 am - 11:00 am

with

Andrea

Borrero




Sat

Apr 06 9:30 am - 11:00 am

with

Andrea

Borrero




Sat

Apr 13 9:30 am - 11:00 am

with

Andrea

Borrero