Vinyasa (2/3)
This class is taught by: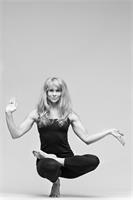 Kiley Holliday
HOMETOWN
Los Angeles, CA
PHILOSOPHY
Kiley views yoga as a means to balance the energies of the mind and body so that one can practice a healthful lifestyle and maintain a state of relative equanimity. Kiley's classes emphasize precise physical alignment and core strength within the framework of an innovative vinyasa sequence. She particularly enjoys teaching empowerment through the art of the arm balance.
CLASSES AT PURE
Vinyasa (2, 2/3), Hot Power Yoga (2, 2/3)
EXPERIENCE & CERTIFICATIONS
200 and 500 hour teacher trainings with Dana Flynn and Alison Cramer at Laughing Lotus
HOMETOWN - NYC PHILOSOPHY - all you have to do is breathe and love your breath CLASSES: Hot Vinyasa and Vinyasa EXPERIENCE: 200 Hr Laughing Lotus, 22 years of practice MENTORS: Shri Dharma Mittra, Dana Flynn, Alison Cramer BEFORE YOGA - Seeking my calling
Vinyasa is characterized by flowing poses and sequences that are linked to the breath. This class is diverse and sequencing will vary with instructor philosophy and in general is a vigorous, more athletic approach to yoga.
Upcoming classes:
Sign Up

Sat

Sep 22 11:30 am - 1:00 pm

with

Kiley

Holliday




Sign Up

Sat

Sep 22 4:30 pm - 5:45 pm

with

Victor

Colletti




Sat

Sep 29 11:30 am - 1:00 pm

with

Kiley

Holliday




Sat

Sep 29 4:30 pm - 5:45 pm

with

Victor

Colletti




Sat

Oct 06 11:30 am - 1:00 pm

with

Kiley

Holliday




Sat

Oct 06 4:30 pm - 5:45 pm

with

Victor

Colletti




Sat

Oct 13 11:30 am - 1:00 pm

with

Kiley

Holliday




Sat

Oct 13 4:30 pm - 5:45 pm

with

Victor

Colletti




Sat

Oct 20 11:30 am - 1:00 pm

with

Kiley

Holliday




Sat

Oct 20 4:30 pm - 5:45 pm

with

Victor

Colletti




Sat

Oct 27 11:30 am - 1:00 pm

with

Kiley

Holliday




Sat

Oct 27 4:30 pm - 5:45 pm

with

Victor

Colletti




Sat

Nov 03 11:30 am - 1:00 pm

with

Kiley

Holliday




Sat

Nov 03 4:30 pm - 5:45 pm

with

Victor

Colletti




Sat

Nov 10 11:30 am - 1:00 pm

with

Kiley

Holliday




Sat

Nov 10 4:30 pm - 5:45 pm

with

Victor

Colletti




Sat

Nov 17 11:30 am - 1:00 pm

with

Kiley

Holliday




Sat

Nov 17 4:30 pm - 5:45 pm

with

Victor

Colletti




Sat

Nov 24 11:30 am - 1:00 pm

with

Kiley

Holliday




Sat

Nov 24 4:30 pm - 5:45 pm

with

Victor

Colletti