Kriya Yoga
This class is taught by: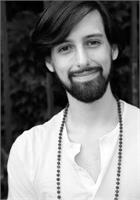 HOMETOWN
Virginia Beach, Virginia
PHILOSOPHY
Where the body goes, the mind will follow. Jimmy teaches a rigorous, fluid vinyasa-based class that encourages his students to use their yoga practice as a way to create space in their lives for unceasing grace.
CLASSES AT PURE
Hot Power Yoga
EXPERIENCE & CERTIFICATIONS
13 years of practice, E-RYT 200, Former director of New York Yoga's 200 and 500 hour teacher training programs where he taught Meditation, Chanting, The Yoga Sutras of Patanjali, and The Bhagavad Gita.
MENTORS
Lisa Asha Rapp, Rachel Page, Dhanurdhara Swami, the teachings of Swami Satchidananda, Dana Flynn and Sri Dharma Mittra.
BEFORE YOGA
Dancer and Choreographer. Artistic Director of Mitra Dance Collective, a NYC-based contemporary dance company.
Take your yoga practice to the next level with this four week series that looks not only at the physical practice of yoga, but dives deeply into the rich historical and philosophical tradition of the practice. Using Patanjali's system of Kriya Yoga laid out in the Yoga Sutras, Jimmy will help students explore the use of Tapas, (Self-Discipline) Svadhyaya, (Self Study/The Study of Sacred Texts) and Ishvara Pranidhana (Devotion/ Surrender to the Higher Self) as a way to develop a meditation practice, explore the wisdom texts of the Yoga Tradition, and totally change the way you view your practice on the mat. The process of Kriya Yoga is designed to add to your level of practice so that your daily yoga practice can become more skillful than the negative thought patterns of the mind and take down the walls we have built around the heart. Through Kriya Yoga the yogi will deepen their knowledge of classical yogic texts, experience first hand the benefits of meditation, and engage in practices meant to open the heart to the beauty of our lives. This series includes vigorous asana, lecture, mantra meditation, and a deeply restful savasana.
Upcoming classes:
Sign Up

Wed

Nov 29 7:30 pm - 9:00 pm

with

Jimmy

Burgio