Mysore (Open)
This class is taught by: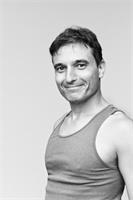 HOMETOWN
New York, NY
PHILOSOPHY
David's goal is to create a steady and safe environment where each individual's practice can flower.
CLASSES AT PURE
Mysore Ashtanga
EXPERIENCE & CERTIFICATIONS
20 Years, Ashtanga, Vinyasa
MENTORS
David's greatest influences are Shri K . Patthabhi Jois, BNS Iyengar, and Shri Sheshadri - all of Mysore India, Shri Brahmananda Sarasvati and his senior students at Ananda Ashram, all of the teachers of the American Yoga Movement in styles from Iyengar to Ashtanga that I have had the honor of learning from and singularly Shyam Das for unveiling sacred and devotional India to this seeker.
BEFORE YOGA
David was a full time artist and art teacher as well as traveling extensively through the USA and Europe.

"Mysore" refers to the way Ashtanga Yoga is traditionally taought in it home city of Mysore, India. This program is one of Pure's unique and specialized offerings.
In "Mysore each student is taught individually; given a one-on-one lesson within a group class. This individual approach means Mysore classes are a perfect fit for new and longtime practitioners. Each and every student is guided and supported in an ongoing program that offers an incredible array of strength, flexibility, and flow resulting in a practice that detoxifies, balances, and strengthens both body and mind.
In Mysore class, each student is encouraged to memorize the breathing/movement sequence and develop an independent and supported practice.
Upcoming classes:
Mon

Oct 23 6:00 am - 9:30 am

with

David

Hollander




Sign Up

Mon

Oct 30 6:00 am - 9:30 am

with

David

Hollander




Mon

Nov 06 6:00 am - 9:30 am

with

David

Hollander




Mon

Nov 13 6:00 am - 9:30 am

with

David

Hollander




Mon

Nov 20 6:00 am - 9:30 am

with

David

Hollander




Mon

Nov 27 6:00 am - 9:30 am

with

David

Hollander




Mon

Dec 04 6:00 am - 9:30 am

with

David

Hollander




Mon

Dec 11 6:00 am - 9:30 am

with

David

Hollander




Mon

Dec 18 6:00 am - 9:30 am

with

David

Hollander




Mon

Dec 25 6:00 am - 9:30 am

with

David

Hollander




Mon

Jan 01 6:00 am - 9:30 am

with

David

Hollander




Mon

Jan 08 6:00 am - 9:30 am

with

David

Hollander




Mon

Jan 15 6:00 am - 9:30 am

with

David

Hollander




Mon

Jan 22 6:00 am - 9:30 am

with

David

Hollander




Mon

Jan 29 6:00 am - 9:30 am

with

David

Hollander




Mon

Feb 05 6:00 am - 9:30 am

with

David

Hollander




Mon

Feb 12 6:00 am - 9:30 am

with

David

Hollander




Mon

Feb 19 6:00 am - 9:30 am

with

David

Hollander