Figure 4 Strength (2/3)
This class is taught by: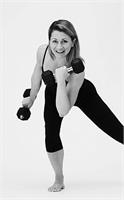 HOMETOWN
Manchester, CT
PHILOSOPHY
In all her classes, Alison strives to hold an open, positive space where students are supported and inspired to explore their minds and bodies through movement and breath, to challenge themselves in the most compassionate way possible, and to experience the practice as a means of letting go, growth, transformation, and healing.
CLASSES AT PURE
Hot Power and PXT
EXPERIENCE & CERTIFICATIONS
200 hour yoga training at Laughing Lotus, 100 hour hot power training at Pure Yoga
MENTORS
Everyone is the teacher
BEFORE YOGA
Office Manager, Opera Singer, Writer, Pastry Chef, Competitive Ballroom Dancer, Dance Teacher, Dental Assistant, among others
HOMETOWN
Lakeville, Minnesota
PHILOSOPHY
Connie sees fitness as a way to connect the mind to the body through the exploration of physical challenges. Using music, clarity of focus, and honesty she seeks to help people push past their comfort zone, to realize his/her goals and take what they learn beyond the studio
CLASSES AT PURE
Figure 4
EXPERIENCE & CERTIFICATIONS
B.F.A. in Dance from Marymount Manhattan College, 200 Hour Vinyasa Certification from Pure Yoga
MENTORS
Kay Kay Clivio, Christina Ilisije, Uri Sands


Using body weight and heavy resistance, larger muscle groups are worked in controlled intervals resulting in a lean body with a bonus of maximum calorie burn. Attention to technique, efficiency and recovery are the science behind transformation in this revamped Figure 4 Barre workout. Level: Advanced, 2/3, not recommended for clients with prominent injuries or are who are pregnant.
Upcoming classes: