Pure Sweat & Sculpt
This class is taught by: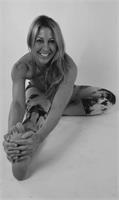 Philosophy: Life is not living, unless you're living in health...
A competitive gymnast in her youth and an avid athlete in her adulthood, Holly knows the importance of functional movements. Specializing in core stability, balance and flexibility, she believes a healthy body is a happy body. She combines her enthusiasm and love of yoga and fitness with a knowledge of alignment and body mechanics. Her approach is an athletic style of yoga and cross training, always focussing on keeping it fun, challenging, creative and safe. Her goal is to help you along the way and provide you with positive support and encouragement to attain your goals on and off the mat.
Classes at Pure: PXT Cross Training
Experience & Certifications: 200 hour RYT Certification from Pure Yoga, American Council of Exercise (ACE) Personal Trainer and Group Fitness Instructor, M.E.L.T Method, PowerStrike Kickboxing Instructor, certified Pilates Mat Instructor
Mentors: Loren Bassett, Kay Kay Clivio and Yogi Charu
Before Yoga: Radio/Television Sales, Corporate Recruiter
Pure Sweat & Sculpt is a unique blend of yoga flow, breath awareness, resistance bands, and weights. We activate, engage, light, tighten and tone your muscles; all designed to take your yoga practice to the next level. This class is a challenging 60 minutes in the hot room, set to inspiring music, with different movements to challenge form and stamina.
Upcoming classes:
Sign Up

Thu

Nov 15 12:00 pm - 1:00 pm

with

Holly

Corey




Sign Up

Sat

Nov 17 8:00 am - 9:00 am

with

Holly

Corey




Thu

Nov 22 12:00 pm - 1:00 pm

with

Holly

Corey




Thu

Nov 29 12:00 pm - 1:00 pm

with

Holly

Corey




Sat

Dec 01 8:00 am - 9:00 am

with

Holly

Corey




Thu

Dec 06 12:00 pm - 1:00 pm

with

Holly

Corey




Sat

Dec 08 8:00 am - 9:00 am

with

Holly

Corey




Thu

Dec 13 12:00 pm - 1:00 pm

with

Holly

Corey




Sat

Dec 15 8:00 am - 9:00 am

with

Holly

Corey




Thu

Dec 20 12:00 pm - 1:00 pm

with

Holly

Corey




Sat

Dec 22 8:00 am - 9:00 am

with

Holly

Corey




Thu

Dec 27 12:00 pm - 1:00 pm

with

Holly

Corey




Sat

Dec 29 8:00 am - 9:00 am

with

Holly

Corey




Thu

Jan 03 12:00 pm - 1:00 pm

with

Holly

Corey




Sat

Jan 05 8:00 am - 9:00 am

with

Holly

Corey




Thu

Jan 10 12:00 pm - 1:00 pm

with

Holly

Corey




Sat

Jan 12 8:00 am - 9:00 am

with

Holly

Corey




Thu

Jan 17 12:00 pm - 1:00 pm

with

Holly

Corey




Sat

Jan 19 8:00 am - 9:00 am

with

Holly

Corey