Pure Sweat & Sculpt
This class is taught by: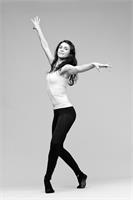 Nina Marchione
HOMETOWN
Northeast Ohio
PHILOSOPHY
We are all trying to reach for the next stage in our personal evolutions. Motivating people in a positive direction on that journey is what inspires me to teach!
CLASSES AT PURE
Figure 4
EXPERIENCE & CERTIFICATIONS
BFA in Dance and Musical Theater, Dancer for the NBA's Cleveland Cavaliers, 200-Hour Yoga Certification, Barre Method for Nike
MENTORS
Hope and Zoe Schultz
BEFORE YOGA
Professional dancer, barre/yoga instructor
Pure Sweat & Sculpt is a unique blend of yoga flow, breath awareness, resistance bands, and weights. We activate, engage, light, tighten and tone your muscles; all designed to take your yoga practice to the next level. This class is a challenging 60 minutes in the hot room, set to inspiring music, with different movements to challenge form and stamina.
Upcoming classes:
Sign Up

Thu

Nov 30 12:00 pm - 1:00 pm

with

Nina

Marchione




Sign Up

Fri

Dec 01 2:00 pm - 3:00 pm

with

Nina

Marchione




Thu

Dec 07 12:00 pm - 1:00 pm

with

Nina

Marchione




Fri

Dec 08 2:00 pm - 3:00 pm

with

Nina

Marchione




Thu

Dec 14 12:00 pm - 1:00 pm

with

Nina

Marchione




Fri

Dec 15 2:00 pm - 3:00 pm

with

Nina

Marchione




Thu

Dec 21 12:00 pm - 1:00 pm

with

Nina

Marchione




Fri

Dec 22 2:00 pm - 3:00 pm

with

Nina

Marchione




Thu

Dec 28 12:00 pm - 1:00 pm

with

Nina

Marchione




Fri

Dec 29 2:00 pm - 3:00 pm

with

Nina

Marchione




Thu

Jan 04 12:00 pm - 1:00 pm

with

Nina

Marchione




Fri

Jan 05 2:00 pm - 3:00 pm

with

Nina

Marchione




Thu

Jan 11 12:00 pm - 1:00 pm

with

Nina

Marchione




Fri

Jan 12 2:00 pm - 3:00 pm

with

Nina

Marchione




Thu

Jan 18 12:00 pm - 1:00 pm

with

Nina

Marchione




Fri

Jan 19 2:00 pm - 3:00 pm

with

Nina

Marchione




Thu

Jan 25 12:00 pm - 1:00 pm

with

Nina

Marchione




Fri

Jan 26 2:00 pm - 3:00 pm

with

Nina

Marchione




Thu

Feb 01 12:00 pm - 1:00 pm

with

Nina

Marchione




Fri

Feb 02 2:00 pm - 3:00 pm

with

Nina

Marchione