Ashtanga (2/3)
This class is taught by: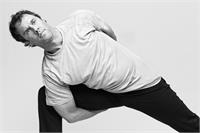 HOMETOWN
Colorado
PHILOSOPHY
Scott teaches an eclectic yoga sequence, drawing from his Hatha, Ayurveda and Ashtanga teachings. He believes yoga to be an effective method of self discovery and positive change. Scott aspires to introduce yoga's potential to newcomers and help facilitate regular practitioners' path to self knowledge and acceptance.
CLASSES AT PURE
Ashtanga, Vinyasa, Hot Power Yoga
EXPERIENCE & CERTIFICATIONS
Scott Harig has been a dedicated Ashtanga Yoga teacher since 2000. While living in Denver, Scott taught yoga exclusively at the Denver Ashtanga Yoga Center under the direction of Michael Rawlison. His main teacher today is Manju Jois, and for the last three years he's led the Ashtanga Program at Pure Yoga West in New York City.
BEFORE YOGA
Competitive Mountain Biker
Kimberly Flynn (Kiki)
2012 marks Kimberly's 30th year of yoga study and natural lifestyle. She began yoga practice in 1982 while an undergrad at NYU and was an early teacher at Jivamukti yoga in the 1980s. She first studied with Pattabhi Jois at Jivamukti in his now historical class of 1993. In 1995 She took the first of 12 trips to Mysore and has spent a cumulative of 4 years study in India. In 1996 she opened an Ashtanga School in Los Angeles where she twice hosted Pattabhi Jois and his family.
Additionally, Kimberly has taught a private clientele that includes many of Hollywood's most successful individuals. She was a yoga consultant in TV and film including the feature The Next Best Thing starring Madonna as an ashtanga yoga teacher.
Kimberly teaches fundamental and advanced courses in Yoga and Sanskrit Chanting at schools all over the world as well as in Teacher Trainings. She also applies Ashtanga Yoga therapeutically working with students with MS, autism, and epilepsy.
Kimberly has taught Mysore programs in Los Angeles, New York, Hilo, London, Oxford, Manchester, Milan, Oslo, Stockholm, Tokyo and other cities throughout the world.
In addition to Directing and Teaching the Mysore Program at Pure, she shares yoga, wellness, and natural lifestyle with private clients and also in free weekly videos on her popular Youtube channel Kiki Says.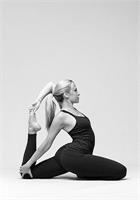 HOMETOWN
South Windsor, Connecticut
PHILOSOPHY
With her toe-tapping music and playful sequences, Rebecca hopes to challenge her students to push through mental and physical boundaries in order to reach a place of release.
CLASSES AT PURE
Hot Power Yoga, PXT, and Ashtanga
EXPERIENCE & CERTIFICATIONS
Pure Yoga Teacher Training, Vinyasa, Ashtanga, Hatha, M.A. in Opera Studies
MENTORS
Scott Harig, Yogi Charu & Maty Ezraty
BEFORE YOGA
Opera singer, bartender
The classical form of power yoga as taught in its traditional sequence. Combines power and flexibility with movement, bandhas and breath to produce an energetic and detoxifying practice.