Pure Zen Flow
This class is taught by:
HOMETOWN - NYC PHILOSOPHY - all you have to do is breathe and love your breath CLASSES: Hot Vinyasa and Vinyasa EXPERIENCE: 200 Hr Laughing Lotus, 22 years of practice MENTORS: Shri Dharma Mittra, Dana Flynn, Alison Cramer BEFORE YOGA - Seeking my calling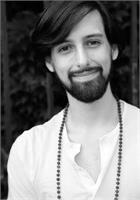 HOMETOWN
Virginia Beach, Virginia
PHILOSOPHY
Where the body goes, the mind will follow. Jimmy teaches a rigorous, fluid vinyasa-based class that encourages his students to use their yoga practice as a way to create space in their lives for unceasing grace.
CLASSES AT PURE
Hot Power Yoga
EXPERIENCE & CERTIFICATIONS
13 years of practice, E-RYT 200, Former director of New York Yoga's 200 and 500 hour teacher training programs where he taught Meditation, Chanting, The Yoga Sutras of Patanjali, and The Bhagavad Gita.
MENTORS
Lisa Asha Rapp, Rachel Page, Dhanurdhara Swami, the teachings of Swami Satchidananda, Dana Flynn and Sri Dharma Mittra.
BEFORE YOGA
Dancer and Choreographer. Artistic Director of Mitra Dance Collective, a NYC-based contemporary dance company.
This class begins with 15 minutes of pranayama (breath work) moves into 60 minutes of Vinyasa flow, and culminates with 15 minutes of meditation. The deep breathing techniques tie awareness back into the body and simple meditation quiets the mind after the powerful flow.
Upcoming classes:
Sign Up

Sat

Nov 25 2:15 pm - 3:45 pm

with

Victor

Colletti




Sign Up

Sun

Nov 26 6:00 pm - 7:30 pm

with

Jimmy

Burgio




Sign Up

Sat

Dec 02 2:15 pm - 3:45 pm

with

Victor

Colletti




Sun

Dec 03 6:00 pm - 7:30 pm

with

Jimmy

Burgio




Sat

Dec 09 2:15 pm - 3:45 pm

with

Victor

Colletti




Sat

Dec 16 2:15 pm - 3:45 pm

with

Victor

Colletti




Sun

Dec 17 6:00 pm - 7:30 pm

with

Jimmy

Burgio




Sat

Dec 23 2:15 pm - 3:45 pm

with

Victor

Colletti




Sat

Dec 30 2:15 pm - 3:45 pm

with

Victor

Colletti




Sat

Jan 06 2:15 pm - 3:45 pm

with

Victor

Colletti




Sun

Jan 07 6:00 pm - 7:30 pm

with

Jimmy

Burgio




Sat

Jan 13 2:15 pm - 3:45 pm

with

Victor

Colletti




Sun

Jan 14 6:00 pm - 7:30 pm

with

Jimmy

Burgio




Sat

Jan 20 2:15 pm - 3:45 pm

with

Victor

Colletti




Sun

Jan 21 6:00 pm - 7:30 pm

with

Jimmy

Burgio




Sat

Jan 27 2:15 pm - 3:45 pm

with

Victor

Colletti




Sun

Jan 28 6:00 pm - 7:30 pm

with

Jimmy

Burgio