Basics (1)
This class is taught by: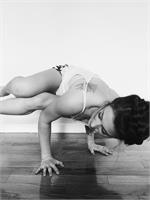 HOMETOWN
Riverside, California
PHILOSOPHY
Rebecca believes in a yoga practice that challenges people to grow physically, mentally, and spiritually. She believes that our bodies were created to move and therefore we should take the time to experiment with our limitations and exceed past the boundaries that we give ourselves.
CLASSES AT PURE
Hot Vinyasa
EXPERIENCE & CERTIFICATIONS
Western Yoga College Teacher Training, Thai Yoga Massage
MENTORS
Scott Miller, Laura Miller, Stephanie Gilliland
BEFORE YOGA
Professional Modern Dancer
Stephanie Ervin
HOMETOWN
Las Vegas, Nevada
PHILOSOPHY
Stephanie teaches with close attention to alignment, guiding her students with compassion and humor so that they can gain knowledge, awareness and understanding of themselves through their practice.
CLASSES AT PURE
Basics, Restorative, Slow Flow, Meditation
EXPERIENCE & CERTIFICATIONS
3 Years, 300-Hour Teacher Certification, Restorative Yoga, Therapeutic Yoga, Dance
MENTORS
Jody Rufty, Sarah Bell, Paula Lynch-Liberis
BEFORE YOGA
Bartender
An iyengar inspired introduction to the fundamentals of yoga with an explanation of the postures combined with correct breathing techniques. Class is conducted at a more relaxed pace where students are encouraged to ask questions. Ideal for first timers
Upcoming classes:
Sign Up

Sun

Nov 26 10:45 am - 11:45 am

with

Rebecca

Sandlin




Sign Up

Thu

Nov 30 7:30 pm - 8:30 pm

with

Stephanie

Ervin




Sun

Dec 03 10:45 am - 11:45 am

with

Rebecca

Sandlin




Thu

Dec 07 7:30 pm - 8:30 pm

with

Stephanie

Ervin




Sun

Dec 10 10:45 am - 11:45 am

with

Rebecca

Sandlin




Thu

Dec 14 7:30 pm - 8:30 pm

with

Stephanie

Ervin




Sun

Dec 17 10:45 am - 11:45 am

with

Rebecca

Sandlin




Thu

Dec 21 7:30 pm - 8:30 pm

with

Stephanie

Ervin




Sun

Dec 24 10:45 am - 11:45 am

with

Rebecca

Sandlin




Thu

Dec 28 7:30 pm - 8:30 pm

with

Stephanie

Ervin




Sun

Dec 31 10:45 am - 11:45 am

with

Rebecca

Sandlin




Thu

Jan 04 7:30 pm - 8:30 pm

with

Stephanie

Ervin




Sun

Jan 07 10:45 am - 11:45 am

with

Rebecca

Sandlin




Thu

Jan 11 7:30 pm - 8:30 pm

with

Stephanie

Ervin




Sun

Jan 14 10:45 am - 11:45 am

with

Rebecca

Sandlin




Thu

Jan 18 7:30 pm - 8:30 pm

with

Stephanie

Ervin




Sun

Jan 21 10:45 am - 11:45 am

with

Rebecca

Sandlin




Thu

Jan 25 7:30 pm - 8:30 pm

with

Stephanie

Ervin




Sun

Jan 28 10:45 am - 11:45 am

with

Rebecca

Sandlin




Thu

Feb 01 7:30 pm - 8:30 pm

with

Stephanie

Ervin