PURE CLEANSE: CLEAR MIND. CLEAN BODY
Pure Yoga, Conscious Cleanse and Creative Juice have created a two-week program designed to rejuvenate your physical, mental and emotional well-being for spring.

JOHN CAMPBELL RETURNS TO PURE YOGA
John Campbell will be leading a series of Ashtanga classes and lectures at Pure Yoga from April 7-April 9.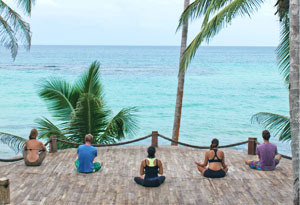 RETREAT TO LITTLE CORN ISLAND
Join Pure's renowned instructor Scott Harig for a 7-day retreat to Nicaragua.

TREKKING TOUR OF NEPAL WITH YOGI CHARU
Experience the beauty of Nepal on this 10-day retreat with Yogi Charu.